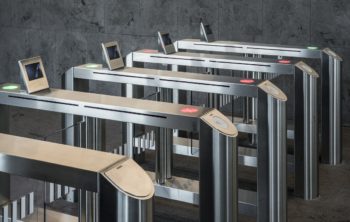 Two product lines
The units in the Argus product range consist of a sensor-controlled passage with automatic door elements in various versions. They provide for convenient contactless passage, even with bags or luggage. The doors close again immediately once the person has passed through, preventing unauthorised passage. Depending on the way the door leaves open, the HSB or the HSG production lines can be selected.
Argus HSB half-height sensor barriers
Tried-and-tested HSB half-height speed barriers are equipped with swing doors and can be configured individually thanks to the wide range of materials and finishes. Choose between a stainless steel housing or transparent glass side walls to match the design of your entrance area. Two different lengths of unit are also available with various sensors, offering different levels of security.
Argus HSG half-height speed gates
HSG half-height speed gates are equipped with different heights of sliding doors. Further features include the high-grade sensors and solid stainless steel housing. When a person passes through the system, the sliding panels move rapidly into the housing, permitting an extremely high frequency of passage.
Additional versions with an increased passage width (for HSB) or automatic swing doors matched to the design (for HSG) provide a barrier-free solution.
Features
HSB half-height speed barriers
High passage frequency and optimum personal protection
Adapted security levels to meet different security requirements
A wealth of attractive and transparent designs
Convenient, direct passage, even with luggage
Modular system consisting of base and extension units
Acoustic alarm in the event of unauthorised use
Easy to use, as door leaves open in the direction of travel
Barrier-free access up to 900 mm wide
HSG half-height speed gates
High passage frequency and optimum personal protection
Convenient, direct passage, even with luggage
Attractive, functional stainless steel housing
Modular system consisting of base and extension units
Acoustic alarm in the event of unauthorised use
Applications
In entrance foyers to assist reception staff
Variants for access to company premises outdoors
Access to areas reserved for members of staff, e.g. laboratories
In the entrance areas of local and national passenger transport facilities